Kurt Cobain's 'Stuff' Not Really For Sale On Craigslist
Today, on another hard-hitting edition of "I read it on the internet, it must be true,"
a Craigslist ad
claiming to offer the telephone, video games, and skis of Kurt Cobain has been making the rounds, upsetting both internet and real folks alike, after supposed ex-roommate, "Alex," had taken to hocking the items via the web outlet.
The posting, however, which includes the excerpts, "when he was famous he never really talked to us again because courtney never liked us but she's a d*** so no hard feelings" and "the phone I know I think he used to talk on the phone to people in LA, that is why it is expensive," in reality, is just some fresh hijinks from Sub Pop receptionist/Stranger contributor/all around cool guy, Derek Erdman, who previously took the internet by storm with
this
and then
this
, and now hey, third time's a charm, or whatever.
Fortunately for us, we're Facebook friends (and real life friends) with Erdman and avoided a serious duping. Instead, we hit him up to find out what's happening in that brain of his, and how all of this came about.
REVOLT: Tell us about yourself. Who are you, and how did you end up here?
Derek Erdman:
I'm just some guy who likes to eat Triscuits. I'm an only child and it shows, I also love Ohio, guinea pigs, and long walks. 

How often do you pull pranks like this and it doesn't get picked up by national press?
Pretty often, I reckon. Last month I found a bunch of "SALE 1/2 OFF" stickers at a second hand store and stuck them all over things at a local Safeway. Nobody wrote about that, as far as I can tell. 

Why does this keep happening?
People love the past, it's like an old friend. What did Proust say about nostalgia? "Remembrance of things past is not necessarily the remembrance of things as they were?" I don't know if Kurt skied, but skiing is pretty fun, so I don't know why he wouldn't. Sorry I just quoted Proust, that was pretty dorky.
Tell us about when this idea struck you.
Friday morning, right after I got to work. I was supposed to be working on something else that I haven't been able to get into, so I created a diversion. Then I ignored it and went back to work. A few hours later I did an interview with CBC radio about it. Later that night I met a TV news crew (with cameras!) at the aforementioned Safeway for an interview, but they called my bluff and asked for ID. I told them that I was a one time bass player for 90s band Gruntruck. They didn't buy it, and they were visibly not happy about me wasting their time, I was wearing a flannel shirt though.


Do people really want Kurt's skis? What are the best Craigslist replies you've got so far?

FUCK YES, THEY WANT THEM BAD. They also want that video game. I've gotten a lot of replies from "serious collectors" and people who will pay for shipping. Have you ever shipped skis? That sounds like it would be really difficult. Not too many people wrote about the Swatch phone, which was surprising. 

So if it's not Kurt's, where'd this stuff come from?
I don't have that stuff, I just found those photos on the internet. If I had a Swatch phone, there's no way that I'd sell it. 

You're an artist. Lets talk about that, what are your latest projects? Any photos to share? Do you have any shows coming up?
I've been pretty into the 1981 Royal Wedding lately, Prince Charles seems like a really interesting d*** Most nights lately I just listen to early Iron Maiden really loud and read about the 1981 Royal Wedding. Diana called Camilla Parker-Bowles "the Rottweiler." Camilla called Diana "that ridiculous creature." I guess that's artistic!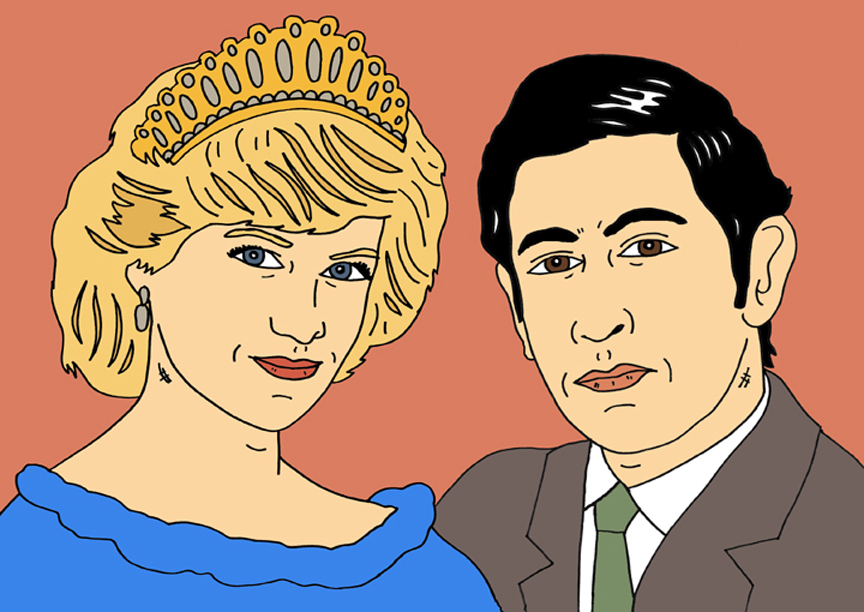 When will you abandon Sub Pop for a life of comedy?
No way. Working at Sub Pop is my favorite thing in the world. I love that place more than anything. Seymore Stein called a few weeks ago and I wanted to ask him so many questions, but I was able to stay cool. 

Best thing you're listening to right now?
There's a song called "Instinct" from 2008 by a Vancouver BC band called Mutators that is f****** incredible. The Laughing Leaves from Australia are also wonderful, also there's a version on YouTube of Metallica's
And Justice For All
that has added bass that fully rips. Sub Pop-related stuff that is brilliant: Tacocat's
NVM
, Death Vessel's
Island Intervals
, the Notwist's
Close to the Glass
. Oh, and
Too True
by Dum Dum Girls. There's also a new Le Sera record called
Hour of the Dawn
coming out in May that is really, really GREAT. Katy's wearing a Poison Idea shirt on the cover, if that's any indication. 

Anything else we should know?
I can't wait for lunch. Nice to rap with you!
It's worth noting Derek really is an artist and you can/should check out the rest of his work/shenanigans,
here
.